I Want Ombre Hair!
Isn't this gorgeous?
Spring/Summer Beauty Trends 2011
As usual, a few of these I find stunning (and will hopefully get to do some tutorials for you in the future) for a some of them, it will take more than a pinch on the arm for me to follow! I've listed the main trends below, check it out. 
Rainbow Eyes
It seems like this coming season is all about colour, think bold, think bright.  
Tip: To translate this look into day, skip the liner and just add mascara with a neutral lip.
Lilac Eyes
This has to be my favourite. If you've got green or blue eyes this is one for you, purple will make any light blue-green colour really pop.
Tip: Line the rim of your bottom lid with purple liner and lilac eye-shadow for a smouldering gaze and pair with a nude lip.
Red Lip
This bright red lip is a spin on the classic crimson red wintery look.
Tip: Pair with naked eyes, glowing skin and bronzer for a fresh appearance.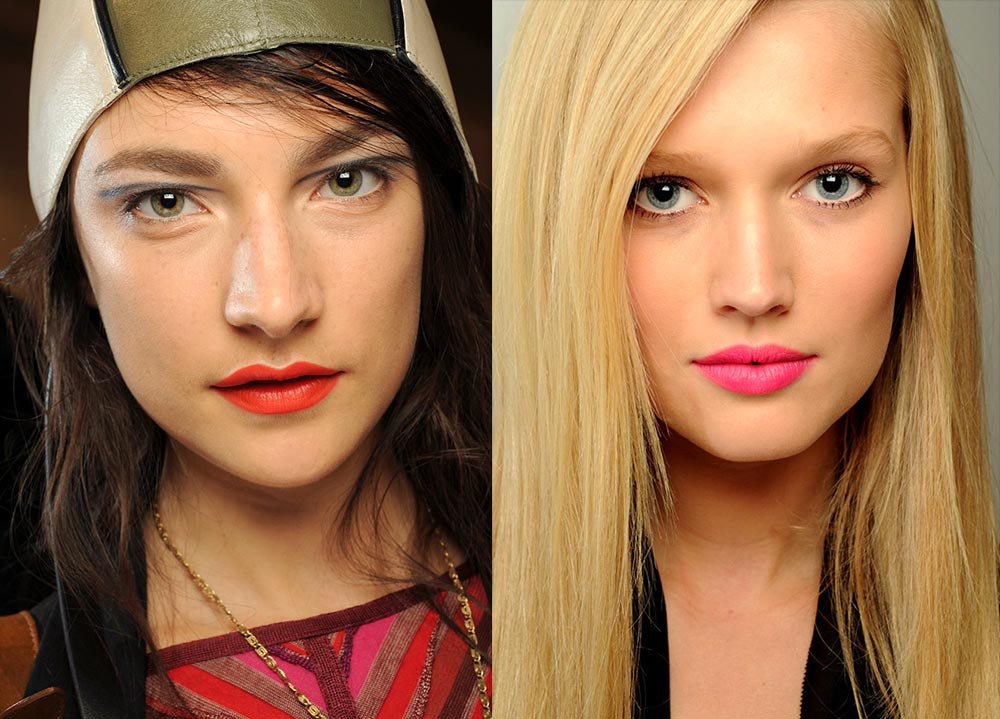 The Inner Corner
This is another one which I'm excited to try out. Highlighting the inner corners from the brow right down to the tear duct for a wide-eyed space age  look. 
My Skin Care Routine
I have a dry/sensitive acne prone skin so it took me some time to find the right products for my type. 
Cleanse with Dead Sea Spa Magik Gentle Cleansing Facial Wash, wash my eye makeup off with some L'Oreal Gentle Eye Make-Up Remover on a cotton bud and then apply an aqueous cream moisturiser. 
The cleanser is so gentle and doesn't leave your skin feeling tight and irritated and is perfect for acne-prone skin. I have used fancy moisturisers in the past but they all have left my skin feeling red and sensitive. Aqueous cream (which you can find pretty much anywhere) is very gentle, non-greasy and soothing, and most importantly does not create blemishes. 
Farrah Fawcett Hair
A tribute to Farrah and her amazing hair. 
My updated version of the Farrah Look:
Perfect for New Years eve parties
Get yer paws on some stunning glitter from Barry M for just £4.59
Tip: before applying glitter on eyelid, sweep some concealer on the lid so the glitter has a good base to stick on.
Pretty As A Picture
Redness Be Gone!
To kick off my blog, I thought I'd start off with my most favourite go-to cosmetic of all…..The L'Oreal Anti Redness Primer
Ladies, if you have a red undertone to your skin, this is definitely the product for you! As we all know, green is the opposite of red, thus the green pigment will counteract any visible redness whilst still acting as a great primer for further make-up.


Price: £10
Durability: Lasts all day
Score: 8/10


You don't even have to wear this product with foundation. To use, apply 2/3 pumps of the primer with a hazelnut-sized amount of moisturiser and just rub that through onto the skin concentrating on redness-prone areas, then, apply foundation over it or skip the foundation for a natural look.
I have a pink undertone which really comes through when I'm hot or out in the cold. This is definitely something I'd apply on my cheeks before heading out to a club. It gets so hot and sweaty in clubs and the last thing I want is to resemble is a tomato!